Atelier Marylin escort and reception.
The Studio
The Atelier Marylin in Berlin has been one of a respected brothel in Berlin's red light district, and is a well known discrete starting point. You'll also find experienced and trained ladies who will respect and implement your ideas.
Services
Models of my escort girls are able to receipt you at Atelier Marylin and offer a good range of services. What services are available depends on every escort girl, that you see on the desk on the right side. If you click on one of the photos you will get more informations about that.
Pricings
Prices in the studio are negotiable and vary depending on space and services you require.

Example:
Room rates (Red & Black)
20 min. for 35 euros
30 min. for 50 euros
60 min. for 100 euros
Opening times
11:00 - 02:00 clock
call us at 0152 24 11 05 94 to learn about special opening times that we also offer.
Website
Visit our Website
Erotik Berlin
Find us
You can reach us at Kurfürstendamm:
Karlsruher Straße 7a, 10711 Berlin (Charlottenburg-Wilmersdorf)
Pictures
Red Room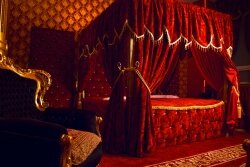 Black Room